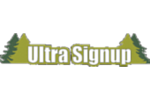 Thanks to all volunteers, supporters, sponsors, and participants who came out for the 2017 event! Weather was perfect, the park was green, and 128 runners finished the 50k and 25k races. 
50K Overall results (PDF)  25K Overall results (corrected)  (PDF)
Results also are posted on the UltraSignup website.
**** Click here for 2017 McDowell Mountain Cup results! ****
---
Pemberton Trail 50K and 25K Run
Saturday, February 10th, 2018 at 7:00 AM
McDowell Mountain Regional Park, Fountain Hills AZ
Pemberton is a fast 25k or 50k run completely on trails in the beautiful McDowell Mountain Regional Park near Fountain Hills, Arizona. Gently rolling hills, great volunteers, good food, mild weather… Come on out and join us for a great day in the desert!
Location: McDowell Mountain Regional Park on McDowell Mountain Road, four miles NE of Fountain Hills, Arizona.
Limit: 200 Runners
Awards: Overall male and female, Masters male and female, and 1st place in age group.
Registration:
Ultrasignup.com
Entry Fees:
50K Individual: $75 entry until Jan. 1st | $90 Entry After Jan. 1st
25K Individual: $50 entry until Jan. 1st | $65 Entry After Jan. 1st
No refunds | No shirts for registrations received after January 5th, 2017
---
The Pemberton Trail 50k / 25k is the first race in the McDowell Mountain Cup, a new three-race trail challenge. Each race is 2 weeks apart. Race #2 is the Stoneman 10k, and Race #3 is the Snakebite 30k / 15k.
Race day details:
Parking Permit:  You must pay $6 at the entrance to park in McDowell Mountain Regional Park.
Weather: In February, Arizona weather can be 35° to 90°. Be prepared for all weather conditions and dress accordingly.
Packet Pick-Up: Race day, 5:30 AM – 6:30 AM at the start/finish area.
Course Briefing: Race day, 6:45 AM
Markings: This course is a well-traveled hiking trail and is marked with brown signs that say "Pemberton Trail."  No additional markings will be placed on the trail.
Aid: You will need to carry a water bottle. Aid stations will be approximately five miles apart. There will be a total of 5 aid stations. We will provide water, Hydrate & Recover, Coke and some food items. Drop bags at start/finish area.
Guest lunch: Donation appreciated.
Cut-Off: 8 hours. This is strictly enforced. The finish line closes at 3:00 PM. Runners in the 50k must complete the first loop in 4 hours or less. An early start (6:00 AM) is allowed for runners who expect to take longer than 8 hours, but be aware that the first aid station will not be set up!
Map: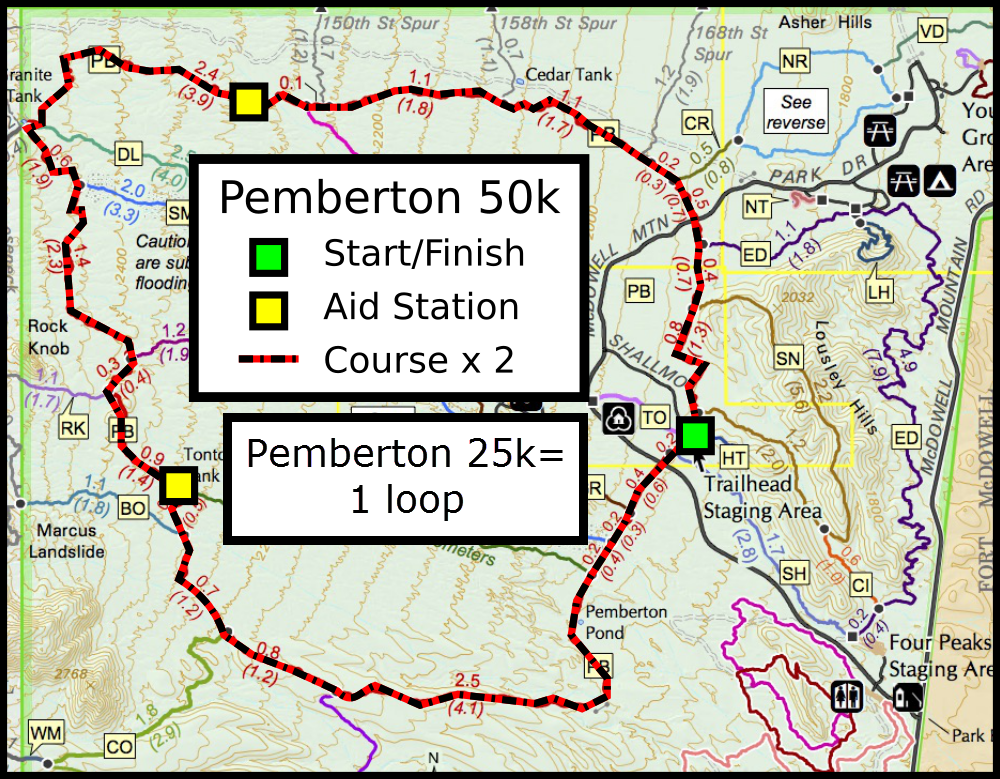 ---
Facilities:  Camping is available at the start. Showers are available at the McDowell Mountain Regional Park for a minimal fee.
Fountain Hills hotel accommodations:
Comfort Inn Fountain Hills – 48 Rooms
Phone: 480-837-5343
http://www.comfortinnfountainhills.com/
Lexington Inn Hotel and Suites – 104 Rooms, Suite and Spa Rooms
Phone: 480-837-6565
http://www.lexingtonhotels.com/property.cfm?idp=22072
Courtyard Mayo Clinic –
www.marriott.com/phxmy
Inn at Eagle Mountain – 42 Mini-Suites
Phone: 480-816-3000
http://www.innateaglemountain.com/
---
Course Records:
Paul DeWitt [2007] 3:11:55
Kristina Pham [2012] 3:47:02
Results
2016
2015
2014
2013
2012
2011
2010
2009
Photos
2015
2014 – Ian Torrence
2013 – Ian Torrence
2012
2011 – Ian Torrence
2010 – Official, Ian Torrence
2009 – Jamil Coury
2008 – Official
Thank you to our sponsors for this race!