Saturday, August 25th, 2018 ~ Register
4:00 PM 10 Mile Start
5:00 PM 5k Start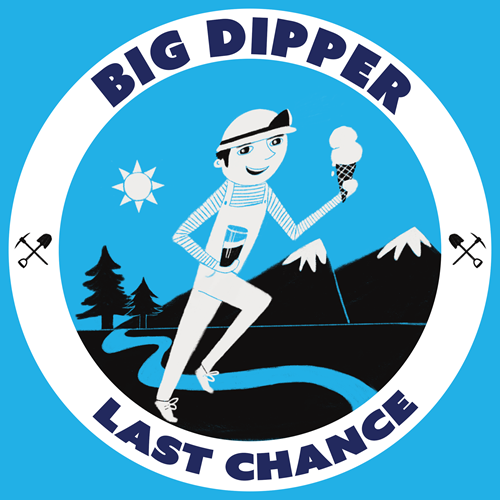 The Last Chance Big Dipper road races will be held on the afternoon of August 25th to help kick off your last weekend before Labor Day with a fun summer farewell party on Helena's walking mall. After this year's race, our premier sponsor Big Dipper along with Ten Mile Creek Brewery, Associated Dental Care, and other sponsors and downtown businesses will be hosting a block party with live music by the very talented Matt Strachan and the Hoot Owls! Check our Facebook page for more information (link below).
The longer race has been extended slightly from 15k to 10 miles this year in recognition of Ten Mile Creek Brewery, another generous sponsor of this event! Both the 10-mile and 5k events are family-friendly, and race proceeds help to support Helena High and Capital High cross-country teams.
---
Course: The 5k and 10-mile races both start on University Street on Helena's west side. (Note: Runners are bused to the starting line from downtown Helena. See instructions below for downtown parking and shuttle departure times.)
After a short uphill stretch from University St to Le Grande Cannon Blvd, the routes travel east toward the mansion district and past Hawthorn School before dropping down through historic Reeder's Alley. Those in the 5k race will leave Reeder's Alley and cross Park Ave to the walking mall, turning north to finish in front of Big Dipper Ice Cream.  The 10-mile route continues south from Reeder's Alley towards Unionville on Orofino Gulch Rd, before runners turn around and access a nice 2.5 mile section of non-technical trail on the return route. Then after a slightly downhill stretch on Orofino Gulch Rd and S Park Ave, runners enter the walking mall for a sprint to the finish.
Course maps:
---
Packet Pickup:  Saturday, September 2nd, from 10 AM – 3:30 PM at Big Dipper Ice Cream, located at the intersection of 6th Ave and Last Chance Gulch (on the walking mall).
Parking and Shuttle: Please park at the Jackson Street Parking garage in downtown Helena and gather in front of the Big Dipper (6th Ave and Last Chance Gulch).  A shuttle bus will begin transporting runners at 2:30 PM. The last shuttle for the 10-mile race departs at 3:40 PM – don't be late!
Timing:  Competitive Timing will provide professional chip timing. Please wear your bib clearly on the front of your shirt.
Aid Stations: There will be aid stations at miles 1.5, 4, 6, and 8.
Finish Line: Refreshments will be provided including water, Powerade, Bagel Co. bagels and fruit. All race finishers get a free scoop of Big Dipper ice cream. Ten Mile Creek Brewery is providing live music and $1 off a beer for finishers age 21 and over with a race number. The brewery is located just a few steps south of the finish line.
Fees: The registration fee is $25 for the 5K and $50 for the 10-miler, plus a small service fee charged by RunSignUp.  Bonus! BQuickRunning is proud to donate a portion of race proceeds to the Helena High School and Capital High School cross-country teams.
Register at


NOTE — Sign up by August 5th to be guaranteed a race T-shirt!
Please note that registrations for this race are no longer collected on the UltraSignup site.
---
Find us on Facebook to keep up with all BQuickRunning events!
---
Previous results
2016: 5k Results   15k Results
2015: 5K Results   15K Results
Results for prior half marathon & 6k events (2010 – 2014) are listed on the Big Dipper Last Chance page on Ultrasignup.com.
---
SPONSORS
We are grateful to our premiere sponsor, Big Dipper Ice Cream Helena, and all other sponsors listed below for their support of Big Dipper Last Chance Road Races.